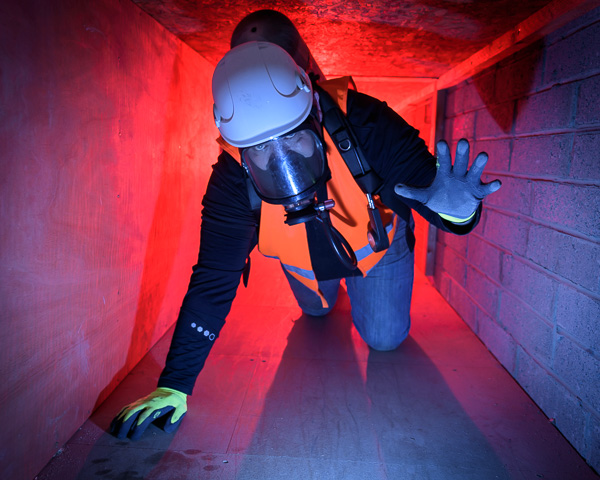 Do you have staff, workers or contractors working in Confined Spaces on behalf of your business?
Perhaps you're not 100% sure if you do?
Think of any place including a vat, chamber, silo, pit, trench, pipe, sewer, flue, well, ductwork, roof spaces, basements, or even a small enclosed room with limited exits, where there may be risk of a hazardous atmosphere or dangerous conditions.
If you have staff or contractors in any of these places, then you are dealing with Confined Spaces and there are a number of responsibilities and obligations that you do need to be on top of as an employer or contracting business.
Case Study:
You may remember the tragic deaths of Alan and Stephen Harris in 2015 in Portmarnock, when the brothers were overcome by fumes whilst working in a sewer. Their tragic deaths were caused by toxic gas inhalation that also almost killed a fireman attempting to rescue the brothers.
In this case, the Health and Safety Inspector stated that the job actually required specialist equipment in accordance with Confined Space Regulations, including a gas detector and breathing apparatus. But, sadly, the right equipment was not used.
Unfortunately, accidents like these are not uncommon in Ireland and the UK and, according to IOSH (The Institute of Occupational Health and Safety), around 15 workplace related deaths each year are as a direct result of confined space accidents.
Requirements and Obligations
So what can you do to protect your workers and what do you need to know in terms of your legal obligations?
Legal Requirements:
The Safety, Health and Welfare at Work (Confined Spaces) Regulations 2001 cover all work in relation to confined spaces.
Regulation 5 states that:
A person shall not carry out work in Confined Spaces if it is reasonably practical that it could be avoided
If the work must be carried out Hazard Identification and Risk Assessment must be carried out prior to the work commencing
A person shall not enter a Confined Space unless there is a system of work in place that has been planned, organised, performed and maintained so as to render that work safe and without risk to health
Anyone entering a confined space must be provided with appropriate information, training and instruction appropriate to the particular characteristics of the proposed work activities
Find the right training partner:
Protecting your workers may appear complex at first, but with the right training partner in place, the process is really quite simple.
We, at Essential Driver and & Safety Training Solutions, offer a full 1 and 2 Day Confined Space Training programme set that covers all of the practicalities and hazards of confined space work, meaning that your hand is held throughout the entire process.
We even have a purpose built Indoor Confined Space simulator which allows us to train your team in the most realistic setting possible.
We cover:
Hazard and Risk Identification
Real Life Examples / Case Studies
Legislation / Code of Practice and Safe Systems of Work
Dangers of Hazardous Atmospheres / Environments
Working  Equipment
Tripods/Winches
Confined Space Harness
Escape Breathing Apparatus
Communication and Entry Procedures
Importance of Hygiene
And we run a practical exam to ensure you have covered all you need to know.
For more information and to find out how you can train your team in all they need to know in relation to Confined Spaces, you can contact us on 045 898060 or by email to info@edst.ie.
Sorry we have no scheduled programmes at the moment. Please contact us below.